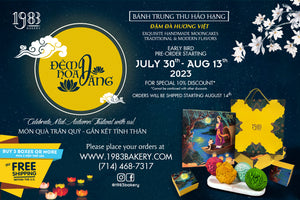 Mid-Autumn Festival
"Lantern parades in Mid-Autumn Festival

Merry go round with our lanterns

With such joy in our hearts
Together we sing as the moonlight lingers."

The Mid-Autumn Festival has always been one of the most favorite occasions of Vietnamese children. Each and every one of us had a chance to grow up with the memories of holding  star-shaped lanterns and parading around the neighborhoods under the Full Moon.
read more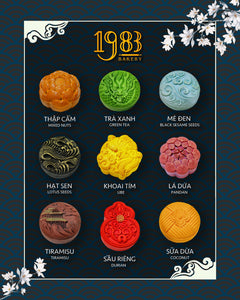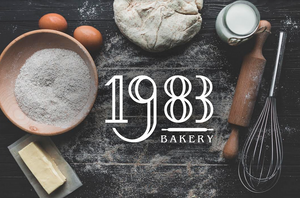 Our Story
1983 Bakery was established not too long ago by our passionate, enthusiastic, and devoted baker, Huynh Gia Tuan - who meticulously dedicates all of his love and effort into Mooncake - Tuan's signature pastry for the annual Mid-Autumn Festival.
READ MORE
Tuấn Xin Chào
Hành trình từ một chuyên viên kiểm toán cho các bệnh viện tại miền Nam California trở thành một người học làm bánh, rồi chủ thương hiệu bánh 1983 Bakery của Tuấn chính là hành trình lột xác đầy ngoạn mục của đam mê
Cơ duyên đến với nghề bánh của Tuấn thật tình cờ, thoạt đầu chỉ từ sự tò mò của việc vì sao giá thành của loại bánh này lại khá cao và làm cách nào để hoàn thành một chiếc bánh Trung Thu chỉ từ những nguyên liệu thô sơ. Trải qua bao tháng ngày miệt mài học hỏi và hoàn thiện từng khâu chế biến để cho ra đời những chiếc bánh Trung Thu, đã có những lúc anh muốn bỏ cuộc vì đã thất bại với biết bao nhiêu mẻ bánh, nhưng rồi anh vẫn tiếp tục cũng chỉ vì đam mê.
XEM THêM